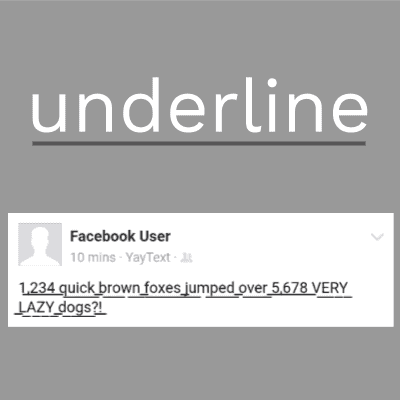 Super cool unicode text magic. Underline y͟o͟u͟r͟ t͟e͟x͟t͟ on Facebook, Twitter, and everywhere else.
This tool generates underlined text (like t̲h̲i̲s̲ or t̳h̳i̳s̳) using unicode characters. Underline (also known as underscore) text is often used to emphasize a word or phrase within a sentence. This style can be used to simulate the look of an HTML link. Additionally, underline can denote the title of a story or poem.
While this text style may look similar to text generated using the HTML <u> element or the CSS attribute text-decoration: underline, it is different. These unicode characters in this font can be copy-and-pasted into Facebook and Twitter updates, text messages, and YouTube comments.
Underline (double macron)
See how these styles look on apps like Facebook, Twitter, SMS; and on Mac, Windows, iPhone and Android devices.